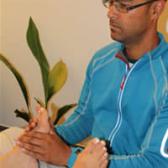 Dharshan is an intuitive massage therapist and energy worker who also teaches mindfulness practices.
He is available with us on Tuesdays. You can book online or contact him on energymedicine108@gmail.com.
As a child, he developed an understanding of energy and continues to explore its innate potential. It was during a family trip to India, his ancestral country, at the age of nine when the first seeds on his journey began.